Your smartphone has turned into your wallet, your photo album, your contact list – storing everything you value the most. We give it the protection it deserves.
All your personal data is stored on your smartphone. It's your most precious memories captured in photos and videos. It's the communication with all the important people in your life. You carry them with you anywhere you go, only a few touches away. It can't get any more convenient – and worth protecting.
trinamiX provides your smartphone with highest protection to keep every bit of your personal data safe from unauthorized access.
At Snapdragon Summit 2022 we revealed how:
Demonstration of trinamiX Face Authentication integrated into smartphone reference design
During Snapdragon Summit 2022, we presented the first demonstration of trinamiX Face Authentication integrated into the latest Snapdragon® 8 Gen 2 reference design. The solution runs fully invisible behind the device's OLED display while setting highest biometric security standards for future smartphones. It combines easy and fast unlock with maximum data protection and also enables a full-screen viewing experience for users.
That's how we bring together two very complementary technologies, both focusing on maximum data protection: By running all our software components in the Qualcomm® Trusted Execution Environment, the biometric data collected during the authentication process is fully protected against third-party access as well as any tampering during the authentication process.
Invisible performance behind OLED
The demonstration of trinamiX Face Authentication integrated into the smartphone reference design by Qualcomm Technologies, highlighted a key feature of our technology: Its capability to reliably operate from behind the display. Mounting all sensing hardware behind OLED opens new design possibilities to manufacturers. Future smartphone designs can thus allow for a maximum screen-to-body ratio, while also including an invisible front-facing IR camera for highly secure face authentication.
Users of future Android smartphones can expect the best user experience and usability: Smartphones that keep their most valuable data safe from fraud or leaks and make accessing this data a full-screen viewing experience.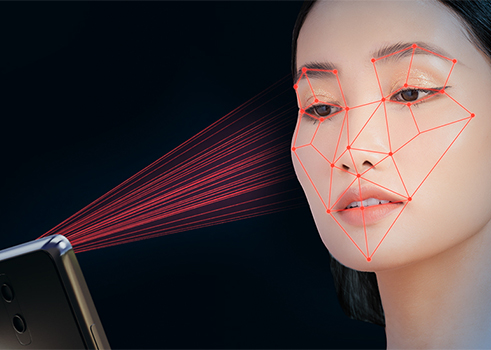 About trinamiX Face Authentication
trinamiX Face Authentication comes with a powerful hardware and software setup, which is available for integration into smartphones and other consumer electronics. The solution includes a customizable hardware reference design and our unique algorithms for highest biometric security.
Our IP-protected system design includes an IR camera, a dot projector and a flood illumination for best application performance. The particularly slim and compact form factor allows for integration into a variety of consumer electronics devices.
The specific setup can be tailored right to customers' needs and hardware requirements.
Find more specifications of our face authentication solution here.
trinamiX Face Authentication is available for individual testing and evaluation.
A new gold standard for biometric authentication
trinamiX Face Authentication combines 2D user detection/recognition and a unique liveness check, which was developed by trinamiX. The latter introduces the detection of human skin versus other materials to clearly distinguish even hyper-realistic copies (e.g., three-dimensional masks) from the real user. Thanks to this novel technology, the solution was certified to meet the industry's highest biometric security requirements.
trinamiX Face Authentication has undergone exhaustive tests and shown to fulfill Android Biometric Class 3 (strong), FIDO Level A-C as well as IIFAA's Biometric Face Security Test Requirement for mobile payment. It is thus officially approved for integration into Android devices.
Deep dive: The technology behind our solution
trinamiX Face Authentication adds a unique liveness check to common face recognition and detection. This liveness check is based on the detection of human skin – a fully new approach in the biometric industry. The technology behind it uses novel algorithms and system design which were developed and patented by trinamiX.
Watch our video to learn how it works.
For any media-related inquiries, please don't hesitate to reach out to our press contacts:
trinamiX GmbH develops cutting-edge biometric and mobile NIR spectroscopy solutions, which are used in both consumer electronics and industrial designs. The company's products enable humans and machines to better capture data with the goal of understanding the world around us. This results in improved decision making as well as stronger biometric security. trinamiX, based in Ludwigshafen (Germany), was founded in 2015 as a wholly owned subsidiary of BASF SE. The company employs over 200 people worldwide and holds more than 300 patents and patent applications.
Find more information at www.trinamiXsensing.com.
Qualcomm and Snapdragon are trademarks or registered trademarks of Qualcomm Incorporated. Qualcomm Trusted Execution Environment (TEE) and Snapdragon are products of Qualcomm Technologies, Inc. and/or its subsidiaries.