trinamiX Consumer Spectroscopy
We integrate non-invasive health measurements into mobile devices
trinamiX is taking mobile NIR spectroscopy a huge step further: by seamlessly integrating the technology into smartphones and wearables. With our miniaturized NIR module for smartphones, we have proven that we can provide advanced chemometric power in a revolutionary small form factor. By 2024, we want to enable consumers to monitor their physical condition in real time – by simply holding their smartphone to their skin.
Our spectroscopy solution for consumers
trinamiX's solution is the unique combination of a miniaturized spectrometer and consumer applications. Our hardware module is small enough to fit into current consumer electronics while providing a full spectroscopic design. Performing a measurement will be as easy as pointing the smartphone to the skin. Based on these individual analyses, a user app provides real-time insights and tailored advice on how to improve the personal health and fitness condition.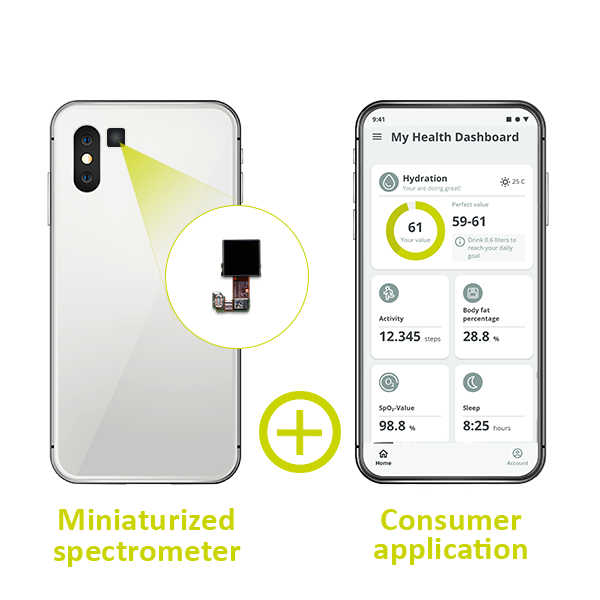 Full NIR module
Incl. IR sensor chip, ASIC, light filter, light source, package

Made for mass production
Module can be produced in consumer electronics scale

Wide spectral coverage
Covers wavelengths between 1-3 µm
Smartphone form factor
Size of reference design is 10 x 10 x 5 mm
Consumer-based pricing
Thanks to our patented IR chip encapsulation
We collaborate with Qualcomm Technologies to introduce our near-infrared spectroscopy module for smartphone integration to the market.
To this day, many relevant biomarkers (molecular indicators of a certain health condition such as hydration and lactate) can only be measured by puncture and lab analysis. These measurements can not only be inconvenient and time-consuming but also come with a crucial drawback: The measurement results are always delayed and can thus never reflect the actual status quo at a particular moment in time.
At trinamiX, we have set out to make a change. We will equip future mobile electronics with a miniaturized NIR spectrometer that allows consumers to receive real-time insights into their physical condition. It empowers them to measure biomarkers without harming their skin – fully based on their smartphone or wearable. That's how we redefine the possibilities of shaping personal health.
Our roadmap for mobile, non-invasive measurements includes:
Hydration
Our application will tell you what your ideal hydration level is, how hydrated (or dehydrated) you are at a given moment and what you can do to reach your individual optimum. Real-time analyses and guidance can help you improve your health, fitness and wellbeing, as your fluid balance has a significant impact on your physical and cognitive performance, your skin condition and your metabolism. While it seems easy to simply "drink more water", maintaining healthy drinking habits in your daily life can be challenging and are highly dependent on changing physical and environmental factors. Typically, thirst alone is not the best advisor as it is often experienced when the body is already dehydrated.
Lactate
As your individual lactate level varies under aerobic conditions, it functions as an indicator of your physical performance and the intensity of your training. Thus, learning about your lactate level during and after physcial activity can help you improve your personal fitness routines, track your progress and support you in reaching your personal goals. Based on real-time analyses on skin, our application can provide you with individual advice on how long your rest period should be and how to match your training schedule to your body's needs. That way, keeping track of your lactate balance does not only improve your fitness but also your regeneration, preventing negative effects caused by physical stress.
Metabolic Sugar
As of today, metabolic sugar (also referred to as blood glucose) is still measured by puncture and lab analysis. While non-invasive glucose monitoring has been studied in scientific research for decades now, spectroscopy has turned out to be the most promising technology to make it happen. We are dedicated to finally provide the means to perform non-invasive glucose measurements based on NIR spectroscopy on skin. We thereby want to address three of the main, yet unmet needs of people with diabetes: a solution that is painless, convenient and affordable. In addition, our app can include guidance on how to maintain or reach a healthier glucose level, e.g., through tailored dietary and treatment recommendations.
Mobile NIR Spectroscopy Solution for Professionals
With our available solution for businesses, we have already made NIR spectroscopy affordable and accessible beyond factory and laboratory applications. It answers the high performance and durability needs of professionals in the field and unites all the important competences: high-performance handheld spectrometer, sophisticated chemometrics and actionable results via app.